About Connected and Autonomous Vehicles
Connected & Autonomous Vehicles 

Connected and Autonomous Vehicles (CAVs) are no longer a question of 'if' but rather of 'when'. There are significant economic and social benefits associated with their adoption, including increased safety, reduced congestion and reduced emissions. The challenge exists for transportation agencies, cities, and companies to understand what the impact of CAV will be and how we maximize the opportunities that they will bring in order to better manage our networks today and in the future.
Taming the Autonomous Vehicle
A Primer for Cities
Today, there are more than 1 billion cars and trucks on Earth. By 2030, this number could surpass 1.5 billion. Just 5 million of these will be autonomous vehicles (AVs). But from this small start will come a sea change that is expected to completely transform how we travel, the shape of our cities, and the way we live.
Taming the autonomous vehicle, to maximize the benefits and minimize the impacts, will be one of the most important challenges of the 21st century.
This primer published by Bloomberg provides a quick guide to understanding the autonomous vehicle landscape.
The Enemy of the Good
Estimating the Cost of Waiting for Nearly Perfect Automated Vehicles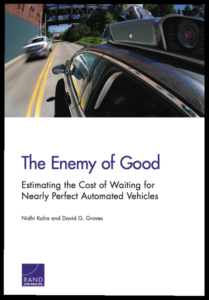 Many are looking to highly automated vehicles (HAVs)—vehicles that drive themselves some or all of the time—to mitigate the public health crisis posed by motor vehicle crashes. But a key question for the transportation industry, policymakers, and the public is how safe HAVs should be before they are allowed on the road for consumer use. From a utilitarian standpoint, it seems sensible that HAVs should be allowed on U.S. roads once they are judged safer than the average human driver so that the number of lives lost to road fatalities can begin to be reduced as soon as possible. Yet, under such a policy, HAVs would still cause many crashes, injuries, and fatalities—albeit fewer than their human counterparts. This may not be acceptable to society, and some argue that the technology should be significantly safer or even nearly perfect before HAVs are allowed on the road. Yet waiting for HAVs that are many times safer than human drivers misses opportunities to save lives. It is the very definition of allowing perfect to be the enemy of the good.
Autonomous Vehicle Technology
A Guide for Policymakers
Autonomous vehicle (AV) technology offers the possibility of fundamentally changing transportation. Equipping cars and light vehicles with this technology will likely reduce crashes, energy consumption, and pollution—and reduce the costs of congestion. Careful policymaking will be necessary to maximize the social benefits that this technology will enable while minimizing the disadvantages. Yet policymakers are only beginning to think about the challenges and opportunities this technology poses. The goal of this report is to assist policymakers at the state and federal levels to make wise policy decisions in this rapidly evolving area.
3 Lewis Street, #2, Boston, MA 02109